Why choose our family business?
It's simple! We use the finest equipment, the most thoroughly trained professional technicians and strive to keep the cost as low as possible for you.
Established since 2005, we love what we do and take huge pride in the reputation we have developed through hard work and consistency over the past decade.
We do not try to justify over-inflated prices based on our expertise. Whether it's cleaning your oven, carpets or upholstery, we pride ourselves on this and if you can find a specialist cleaning company with the same level of knowledge, training and standard of equipment that's cheaper we will match their price and refund you the difference.
On average we are proud to save our customers 30- 40% when compared to any company meeting the above criteria.
We have a clear pricing structure which is up front with no hidden extras showing you exactly how much we charge per item, we will NOT try to sell you additional work you don't want, we WILL carry out the deep cleaning of your carpets, soft furnishings, cookers & property to a standard that will amaze!. Trading since 2005 our family business has 1000's satisfied customers who use our service once or twice a year. We also carry out commercial work for over 80% of local letting agents and are recommended by some major companies just take a look at our reviews and ratings!
Daniel and Teresa are very proud of the team here at Clean and with over twenty years industry experience between them you can rest assured knowing your carpets, soft furnishings, ovens and properties are going to be cleaned with the up most care and attention.

Our technicians
Our team of technicians have all achieved the highest level of professional training and have completed qualifications with both the National Carpet Cleaners Association (NCCA) and the Institute of Inspection & Restoration Certification (IICRC) along with in-depth on-site training lasting at least six months.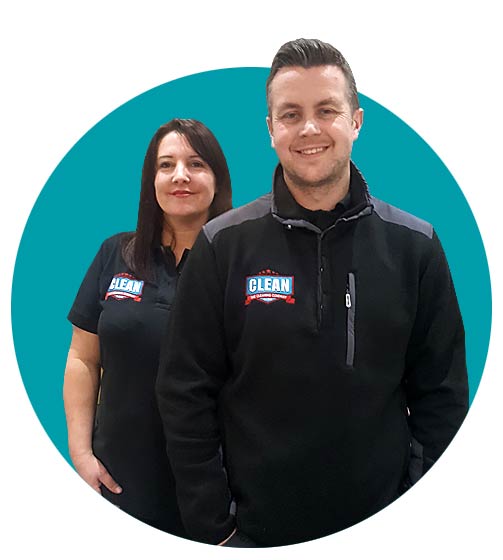 Daniel & Teresa are extremely well respected within carpet cleaning circles and is approached on a daily basis by other cleaning companies for their expertise and knowledge when they have difficulty at a job. Dan has also spent time as a board member on the NCCA National Carpet Cleaners Association and is a former Police officer. Teresa comes from a career in customer service and leads our busy office staff and keeps everything running like clock work
If you would like a quotation or any advise please feel free to get in touch via email or by calling 0800 021 0234